Hostio Solutions will be the first hosting provider that is going to offer Solus.io on a large scale. We're working hard with Solus.io to prepare the product so that we can offer our brand new cloud platform as soon as possible.
In recent years we have been using SolusVM for our VPS platform. This has always worked very well and has always been stable. In recent months, we've been evaluating a new VPS/Cloud platform that will give us the opportunity to grow it even more.
Many companies have launched crowdfunding and other initiatives to develop the perfect control panel for VPS/Cloud. However, this didn't always work out because there were parties who did not keep their promise and ran away with the collected money. 
On June 6, 2018, Plesk announced that they had taken over SolusVM and that they will develop a new Solus.io cloud platform based on KVM. Mid-2020, Plesk launched Solus.io.
Of course, we were super enthusiastic when we heard this news and immediately started testing. Solus.io can be a solution that will suit all of our needs. Which is something others haven't been able to offer yet.
Since Solus.io is made by Plesk and we are already very satisfied with Plesk obsidian, we have full confidence that Solus.io is going to be a good product as well!
Final stages of intensive testing
The intensive testing of Solus.io is almost finished. We are still waiting for a few important things to be added such as:
Assign resources/plans to a customer

View data traffic usage

Possibility to enable SMTP per customer

Extra IP addresses
All we have to do now is to wait for the above points to be implemented. After this, we can go live with our new Cloud Platform.
Preparations in Serverius data center
We've been working hard to fully prepare our infrastructure in the Serverius data center in Dronten (the Netherlands).
We've, for example, implemented our juniper network with double core routers/switches and double fiber-optic connections. Together, this makes a strong network, which allows us to offer premium data traffic. Do you want to know more about our premium network? You can read all about it here. 
For our new Cloud environment, we are using the brand new data hall of Serverius. This has been build last year. 
We have chosen new Dell Poweredge servers for our own VPS nodes. These are equipped with double power supplies and double 10G fiber. This is connected to our strong core network. For storage, we use Hardware RAID 10 with Samsung Enterprise SSDs.
Together, this ensures that we can offer a cloud environment at an enterprise level with the highest possible availability guarantee.
Let's take a quick tour through the cloud panel from Solus.io
Solus.io has chosen a nice, clean design for the login page.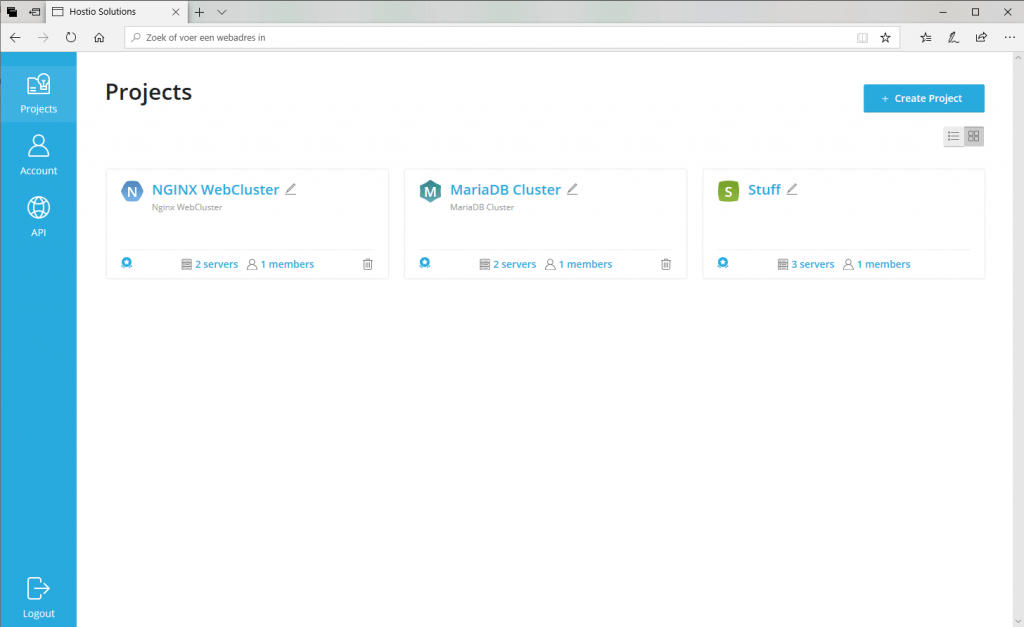 As soon as you're logged in, you will get a clear overview of all of your projects and the number of servers that are active in this.
Within your project, you get a clear overview of all the information you need. You can also invite other people so they can also manage the servers within your project.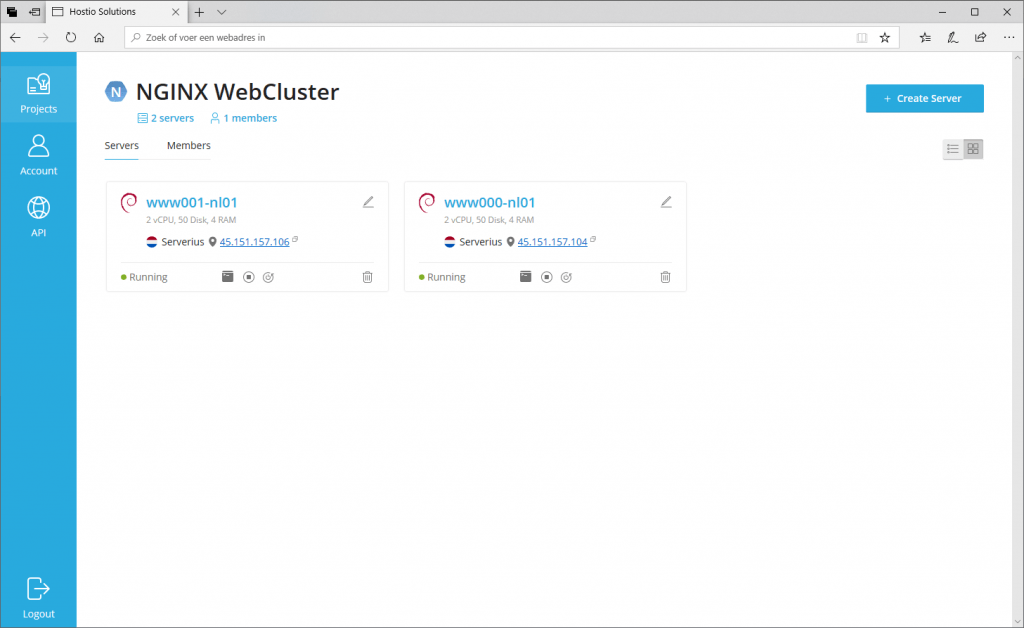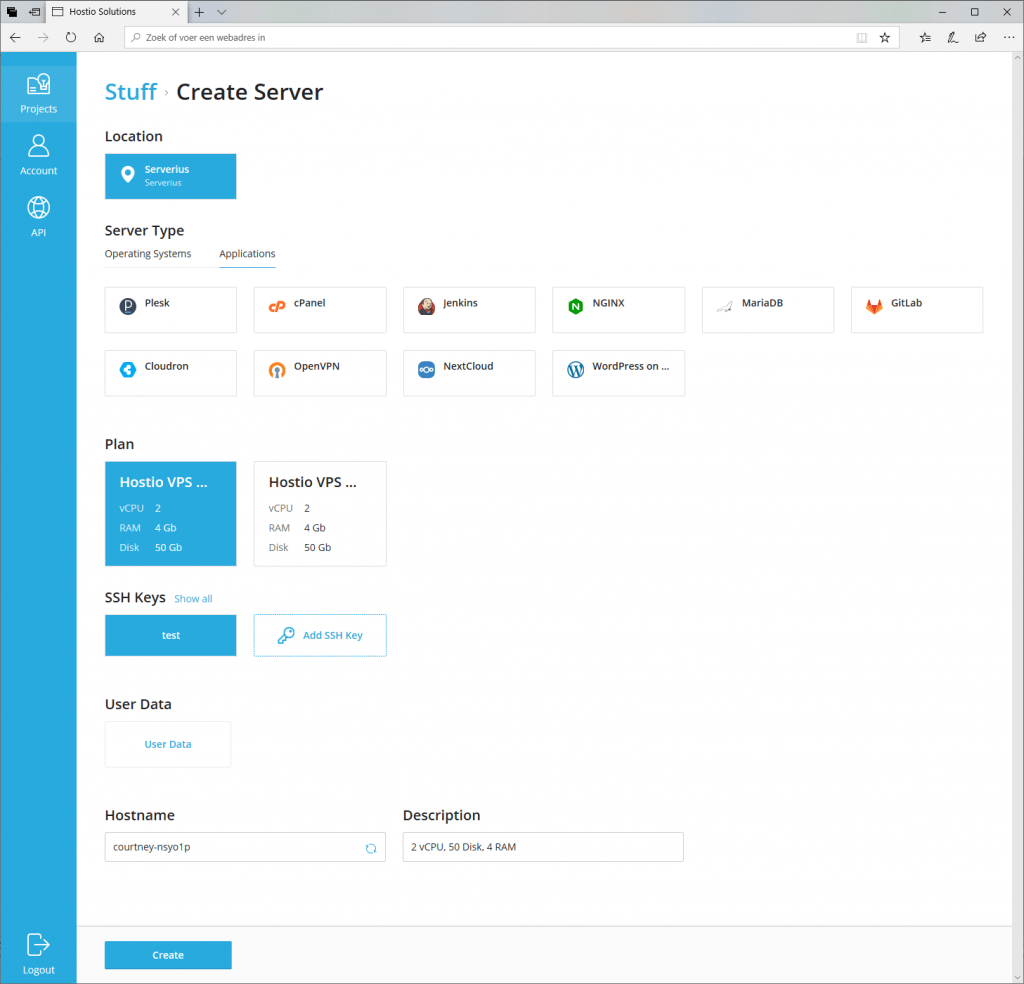 Within the Solus.io platform, you can easily create a new server. You can choose between various Linux OSes or ready-made applications and templates. You can also add SSH keys, which makes passwords a thing of the past.
You can also view the specifications of your server, view graphs, and reinstall the server with a Linux OS or ready-made applications/templates. Alongside this, you get the option to add additional IPv4 addresses to your VPS and manage its rDNS/PTR.
Are you gonna launch your project in our Hostio Cloud soon?

Follow us on all of our social media channels and stay tuned!