Join Hostio Solutions and start leasing the IP addresses that your business ' expansion needs.
Lease for any need you may have such as as VPN, data centers services, reselling, hosting, marketing, ISP, colocation, etc.
Lease 100% Clean IPv4 Addresses
Lease starts from /24. Depending on stock, we also have /23, /22 and /21 available for lease.
Please contact us before ordering IP addresses.
A deposit equal to 1 month of rental might be required
Clean RIPE IPv4 Range /24 (3 months)
IPv4 /24 Semi-Annual Lease
Clean RIPE IPv4 Range /24 (6 months)
Why choose our IP addresses?
We Own All of Our IP addresses
This means that there are no 3rd parties or brokers involved which makes the service set-up as fast as it can be.
We can host all of our IP addresses on our servers or provide you with a LOA so you can host them on your own DC.
No Complicated RIPE Transfers
You won't need to pay for an expensive RIR membership, because the IP addresses will be assigned to you from our own pool.
We take abuse seriously. Therefore, our anti-abuse team works around the clock to prevent spam, phising, fraud & any other type of abuse.
We make sure to deliver the IPs within 48 hours. This is possible, because you will be skipping complicated RIPE and brokerage processes.
We supply IPv6 /48 for free with each VPS with BGP. 
If you want to use IPv6 on your own ASN and servers we offer the following options:
Other IP Related Services
We can help you with the entire process of changing the GEO location of our IPs at popular Geolocation Providers.
When renting IP addresses from us, you get a BGP session free of charge. This allows you to adapt your IP space according to your business needs.
We can help you with your RIPE ASN application. Please see our ASN service page for more information.
We take security to the next level by setting up RPKI Route Origin Authorisation (ROA) for you.
Frequently Asked Questions
IPv4 leasing is an affordable way for your business to be able to use IP addresses without having to invest the full purchase price. By leasing IPs, you pay a monthly, quarterly or semi-annual fee to get access to the IPs that your business needs.
Can You Also Help Me With Applying for an ASN?
Yes, our parent company, Access2.IT Group B.V. is a RIPE member. Therefore, we can guide you through the entire ASN application process and manage it for you. 
Do You Provide a Letter of Autorization?
All of our IP addresses are accompanied by a Letter of Autorization (LOA) that gives you the permission to announce the subnet at any data centre of your choosing.We will provide the LOA in PDF format, which you can then forward to your upstream provider. This permits them to announce our IP addresses you lease from us, on their network.
We take abuse seriously. Therefore, our anti-abuse team works around the clock to prevent spam, phishing, fraud & any other type of abuse or illegal activities. Our IPs must be kept clean at all times.Of course, it can happen that an IP address gets blacklisted. If IP addresses are misused and/or appear on a blacklist, the customer will be notified and must resolve this within 24 hours after notification.If the IP address is still misused or blacklisted after 24 hours, we will charge a fee to resolve the issue. If the misuse of IP addresses continues, we can take back the leased IP addresses/ranges. In this case, the amount of the remaining contract period will be invoiced and no refunds will be possible.
Are Your IP Addresses Clean?
Yes, we provide 100% clean ranges. To ensure this, we use powerful software that runs each IP address against 100+ global IP blacklists. We always provide a detailed IPv4 blacklist report.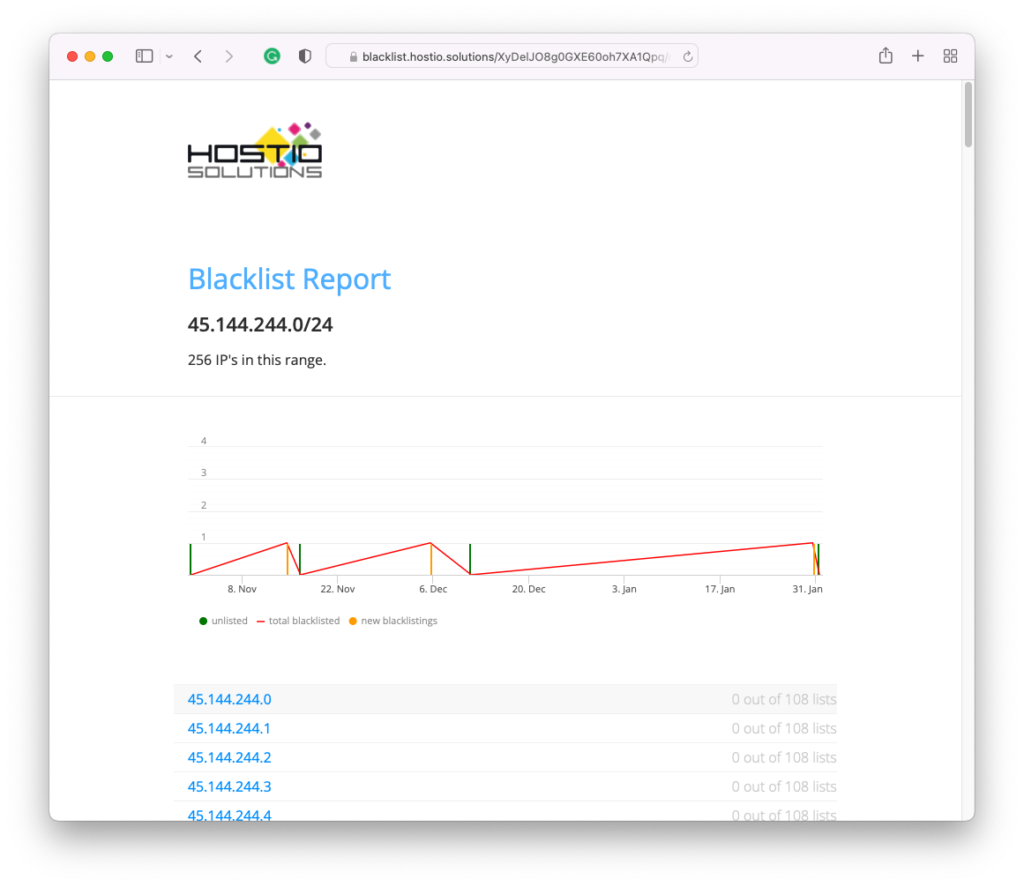 We offer benefits and discounts to clients who stay with us for the long run, order a large number of IPs and/or choose longer billing periods. Contact us if you'd like to know more about our pricing.
Do I Need a Long-Term Contract?
There are no long-term commitments or contracts involved when leasing IP addresses via Hostio Solutions. Flexible leasing options are available, starting at 1 month. However, long-term customers do get discounts and benefits.
Can I Also Buy IPv4 Addresses?
Renting larger IPv4 blocks
Please contact our sales department if you'd like to rent an IP block that is larger than IPv4 /21. Depending on our stock, we might be able to offer you a custom solution.